Introducing Light Canvas – smart string lights that take the next step in blending the physical and digital worlds.
Smart lights are just beginning to take advantage of the power of today's smartphones.
Light Canvas is a set of smart LED string lights that utilise your phone camera to create a virtual display. Light up your space with stunning visuals, animation and color.
---
Unleash Your Creativity
Create the perfect ambience to match your mood and personality.
The Light Canvas is endlessly customisable. Choose from a wide selection of built-in scenes – everything from subtle and relaxing to vibrant and psychedelic.
Move, resize and rotate scenes to suit your particular setup.
Create your own scenes from photos and animations on your phone or shared from other apps.
---
Screen Mirroring
Sync your device screen onto your lights in real-time.
Mirror any app or game from your Android™ phone onto the Light Canvas.
Create a light show experience at home by mirroring videos from YouTube™.
Play with swirling colors using the Fluid Simulation app.
You're limited only by your imagination.
---
Easy Setup
Comes with adhesive hooks so you can try different arrangements without damaging your walls. No drilling required.
Straight-forward setup – just plug it in, connect over Wi-Fi with the companion app and start using your lights. No tedious account creation or sign-in needed.
---
A Smart Home Device that Respects your Privacy
Much like a traditional light bulb, you don't need to hand over any personal information to use your Light Canvas.
Your lights can be run with no internet access for complete peace of mind.
The app requires only the minimum permissions necessary to control your lights, nothing more.
---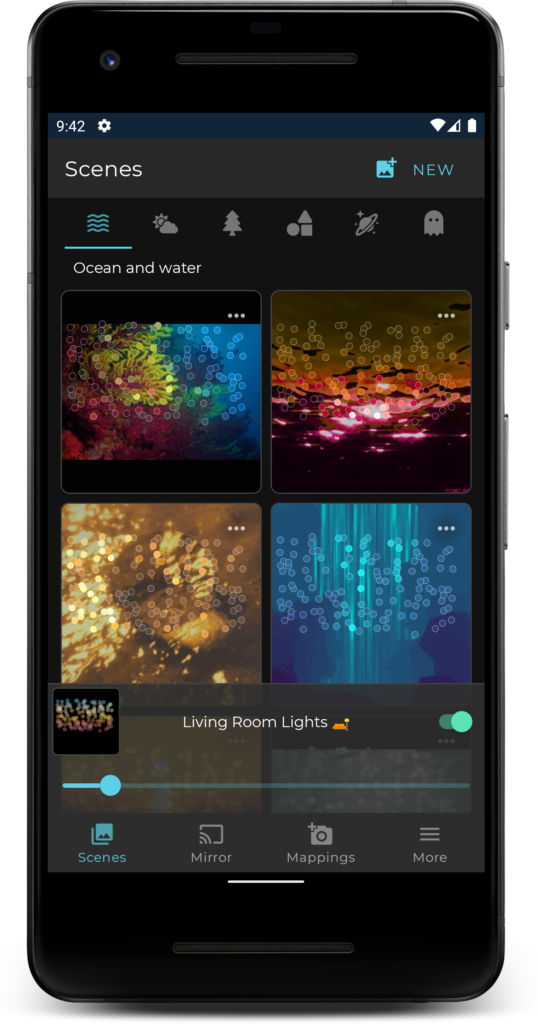 Light Canvas companion app now available on Google Play.
---
Subscribe for News and Updates
Unsubscribe at any time. We won't share your email address with anyone.
---
Android, YouTube, Google Assistant, Google Play and the Google Play logo are trademarks of Google LLC.